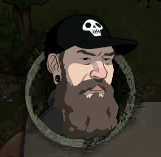 Pre-Apocalypse

Edit
Location: Unknown

Edit
Nothing is known about Greg prior to the apocalypse.
Post-Apocalypse

Edit
Social Game

Edit
Greg is at the camp when the player arrives. One of the first quests have to be opened by talking to Greg. He seems to dislike Shane because he constantly question why he is the leader. Joe also feels the same way. He also says "I feel like you guys treat me like "walker chow".
&nbsp Find Antibiotics.
Find Food.
Find Water.
Clear The Area.
Mission 27: Making the Radio Work
Killed Victims
Edit
This list shows the victims Greg has killed:
Possibly numerous counts of zombies .
Ad blocker interference detected!
Wikia is a free-to-use site that makes money from advertising. We have a modified experience for viewers using ad blockers

Wikia is not accessible if you've made further modifications. Remove the custom ad blocker rule(s) and the page will load as expected.